PERUMBAYIL AYURVEDA MANA
Authentic Ayurvedha
PERUMBAYIL AYURVEDA MANA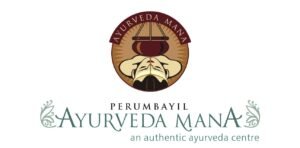 After the fall of the Mahodayapuram Cheras in 12th century, Malabar Coast was fragmented into numerous feudal city states called Nads (swaroopams), ruled by Naduvazhis. Moopil Nair is the term used to denote Nair Naduvazhis (rulers of nads or city states) and Desavazhis (rulers of desams) of tiny feudal kingdoms on the Malabar Coast, present day Kerala State, South India. These Nads were again divided in to desams ruled by the Desavazhis. Perumbayil Tharavadu was the desavazhis of Paluvai Desam. Some of its family members were ayurveda practitioners also.
Today Perumbayil Mana, is renovated and re constructed as one of the authentic ayurveda treatment centres following the traditional way. It is the only place in Kerala, the Astavaidya and Guru Parambara lineage co- exit. We follow "Ayurvedamana Way" a unique combination of Ayurveda, Kalari (martial art) and Marma (pressure point) treatment system. Here the Services of India's leading Ayurveda experts like Ashtavidyan Vaidyamadam Dr. Rishikumaran Namboothiri, Prof. Vasudevan, Dr. Kottakal Raghava Warrier, Ashtavaidyan Vaidyamadom Dr. Rajeev Namboothiri. etc are available.
Special Treatments
Neurological disorders, Arthritis, Spondylitis, Disc problems,
Bone, Joint & Spine related problems, Head ache related problems, Muscular diseases, Allergy related problems (Hypersensitivity), ENT problems, Liver disorders, Digestive disorders, Urinary disorders, Skin disorders, Gynec problems & Women health, Infertility (Male and Female), Mental disorders – Disturbances of mind, Varicose veins (Blood vessel disorder), Sleep disorders, Diabetes mellitus, Developmental disorders, Anal Fissures, Psoriasis, Motor Neuron Diseases, Alzheimers, Parkinsons, Infertility, Anaemia (Haematological disorder), Post Cancer/Chemo treatments, Post-operative care- heart aliments…etc
Wellness Treatments
Rejuvenation (Rasayana Chikithsa), Stress & Strain management, Weight
reduction and Obesity, Lifestyle disease management, Womens care programme, Pregnancy care, Postparum abhyanga ayurvedic full body massage, Postpartum modified cleansing therapy, Beauty care treatment…etc
Ayurveda Therapies Abhyangam, Shirodhara, Shirovasthi, Swedanam(Steam Bath), Avagaha Sweda, Ksheeradhoomam, Pichu,
Thalam / Thala Pothichil, Chavitti Uzhichil, Udwarthanam, Pizhichil, Kizhi (Poultice), Lepanam, Upanaham, Tharpanam, Karnapooranam, Dhoopanam, Sneha Paanam, Vamanam, Virechanam Vasthi, Nasyam, Kabalam, Rakthamoksham, Navaratheppu, Katee pichu, Akshitarpan, Yoni Pichu, Yoni Kshalanam, Uttara Vasti, Hrid Tharpana Hrid Dharat, Anda Sweda, Valuka Sweda, Pada Dhara, Sarvanga Takra/Ksheera Dhara, Jaloukavacharana (Hirudotherapy), Netra Dhara, Jaanu Dhara Aschotanam
Facilities
20 beautifully furnished spacious bed rooms with attached bathroom and toilets.
Some of the classical features of Heritage rooms are : Each rooms are named with ELEMENTS of life • Furnished with antiques. The roof are paneled with wooden pallets to maintain the temperature
• Colonial ethnic flooring with large windows for better air circulation.
---